Get Ready to Jam Again
Posted on December 16 2016
Hard to believe that it's already been 20 years since Michael Jordan made his return to basketball following his brief baseball career. While he was already one of the most marketable athletes of all time, Space Jam proved that his star was still rising. The movie had everything that young fans of his like me could have wished for:
Relevant movie stars… Check
Cartoon characters… Check
The latest Air Jordans… Check
Despite receiving terrible reviews from movie critics, Space Jam was a box office hit and helped to elevate Michael Jordan's marketability to unprecedented new heights. He was a pop culture phenomenon who was seemingly able to relate to anyone, regardless of whether they had ever watched him play in the NBA. Being both a young basketball fan and sneakerhead, you could only imagine the impact that the movie had on kids like us.
Nike was and is the dominant player in sportswear, and their Air Jordan series has some of the most sought after sneakers to this day. The movie featured Michael wearing the Air Jordan XI in one of its most famous colorways that became known as the "Space Jams". The Air Jordan XI is widely regarded as one of the most iconic shoes ever made, and not just in Jordan Brand's history. Famed Nike designer Tinker Hatfield's creation changed sneakerhead culture forever, and the Air Jordan XI began the wave of high performance shoes that were equally at home on the basketball court as they were anywhere else.
The Air Jordan XI has since been released in countless colorways, and many of these have since been rereleased or "retro-ed" in limited quantities. 20 years later, and the demand for these sneakers could actually be higher than ever before. The "Space Jams" have been retro-ed this year in celebration of the movie's 20th anniversary, and was sold out instantly as expected. Like with most of Jordan Brand's retro sneakers, they can no longer be purchased in stores and can only be gotten through collectors and resellers willing to give up their pairs. This secondary market has grown to be massive, and owe many thanks to Michael Jordan's unmatched marketability and cultural significance.
Space Jam may just be a 20 year old movie now, but its impact on pop culture is still reverberating to this day and will into the future. The movie was a huge melting pot that brought cultural things that we didn't think belonged together, together. It set the stage for how athletes could be used to market and relate to everyone else. It also paved the way for basketball players such as Kobe Bryant to become the pop culture icons that they are.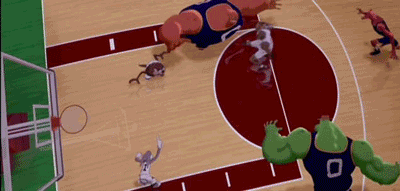 All this has got us feeling nostalgic, so please excuse us while we rematch Space Jam for the nth time. Perhaps we'll also have to find a pair of those Air Jordan XI retros…